Top-Rated Equipment Rental Agency
VR Labs makes available, every device desired to execute your VR experience effectively at your next event. Our equipments are the best in the industry. With this, we are sure to provide you with a fascinating virtual experience for your guests.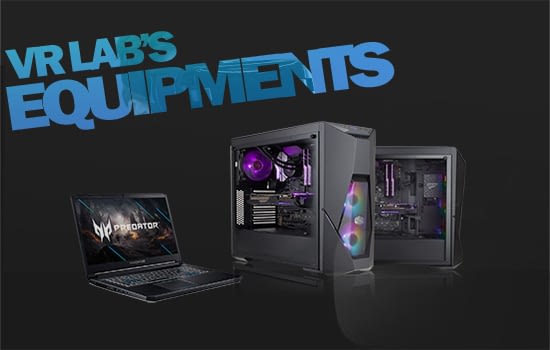 If you already possess the personnels you need to accomplish your goals, permit us to provide you with the latest and fully functional equipment and devices to ensure your guests have a blast. We rent out VR devices for trade fairs, events, workshops, and any other business-connected purpose.
Included With Our Rentals
Up to Three Hours of Pre-Event Strategy with VR Experts

Unlimited Email and Phone Support

Premium Pelican Cases (With Wheels) For Easy Equipment Transport

New equipment & Required Accessories

Alienware Gaming Computer Preloaded With Selected VR Experiences

High Quality Headphones

One Power Strip, Plus Necessary Extension Cords
Virtual Reality: Fully Immersive 360° Viewing

Headsets: HTC Vive, PSVR, Oculus Rift & more

Computer Tower: Alienware Aurora A5

Gaming Laptop: Alienware 17

Sensor Type: Photosensor depending on VR system

VR Controllers: Wireless, Dual-Stage Trigger, Optimized for VR Play
About our Equipment Rental
As we have previously stated, we are ready to work with your company hand-in-hand to design and provide you with the perfect event experience for your guests. We supply you with the latest VR devices and applications, and provide you with experts to assist you in it's operations.
WHAT TO EXPECT WHEN RENTING
We believe that you will enjoy every process of you working with us. Our operation process is subdivided into sections which are:
Rubbing minds with you and assisting you in planning your event.
Providing you with the trending VR devices for your events.
Supplying you with device professionals to assist you in the proper use and operation of the devices rented.
We do whatever it takes to ensure that your event goes as planned. With our services, techniques, devices and other professional services, you are sure to have a blast at any of your events.