About Us
Besides offering the trending VR equipment and devices, our assistance, however, works out additional professional services to ensure that your event is supplied with the necessities to provide the best VR experience for your guests.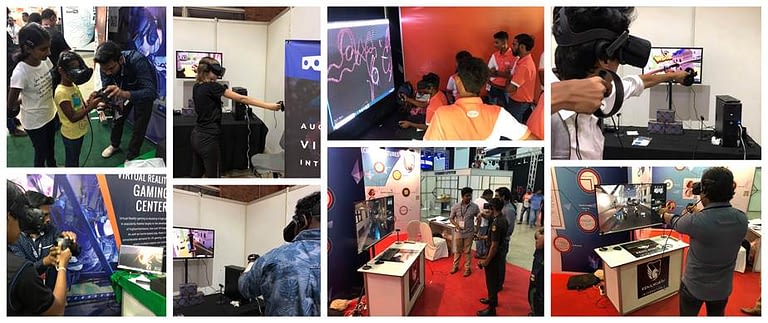 As a top-rated AR/VR based IT company, we primarily focus on interactive application development and VR device rentals. We are capable of shooting and editing in 3D 360 and also capable of capturing all of our work at its best. By also working hand in hand with corporate companies, provision of the best Virtual Reality (VR) services for their operations is certain.
VR Labs works cooperatively with you to provide quality services in VR entertainment for your various operations ranging from events, parties, exhibits, trade shows, and conferences.
VR Labs help ensure that your events or operations are fun-packed, interesting, and engaging. It most of all persuades the guests to develop interests in the event or operation being carried out. By carrying out essential measures and performing the necessary operations, you are sure to be delighted and your guests are sure to have a remarkable time of their lives. 
Whatever it takes to transform a normal event into an extraordinary event, is in our capabilities with the help of our top-rated services. No matter the purpose of the event, which could be marketing, brand publication, or even parties, just mention it and we will help you get things done professionally. We are sure to help you end up leaving your event guests with wide smiles and an immeasurable amount of pleasure.
Our experts here at VR Labs utilize their many years of expertise to ensure that they supply you with the best, extraordinary and interactive experiences for your company's various operations.
VR Labs is blessed with a team that possesses wide knowledge about VR devices, applications, and their uses. Our team is well experienced with VR event planning, interactive branding, and interactive marketing as well. High-end devices that are capable of running VR applications smoothly are also in our possession. More so, these devices are of good quality and they are well maintained and packaged. 
Just to ensure that everyone is satisfied, in a situation where what we offer does not match your concept, our team and professionals are ready to work with you to design a customized VR application or experience that properly apprehends your various specific demands.
Coupled with creating an outstanding VR experience in your events, VR Labs differs from other dealers because we also tend to concentrate on the experience and interest of the guests. At VR Labs, we eliminate forcing VR devices on you and your guests with the point that it is an incredible invention. Instead, we work closely with you to help you achieve your distinctive event objectives. 
Here at VR Labs, we are reliable and clear with our operations. Judging from reviews and comments made by past clients, we can boldly declare that VR Labs is the best at what they do.
Professional
On-time setup and breakdown
Fast responses to your calls and emails
Above and beyond attitude
Experienced
Fun and respectful staff
High hiring bar
Extensive training program
Cutting Edge
Years of experience programming, experimenting, and showcasing virtual reality (VR)
Years of experience planning, hosting, and supporting events